---
Into the Night - 3 October 2020
We are gliding into fall. Over the summer each of us has worked on a version of a Point Quiet song and made a recording.
Now that the days are getting darker and colder we will share them with you one by one.
First one is Pascal's new version of a song from the 2007 album Deseronto, Into the Night. (CRS/Continental Record Services)
May it warm your hearts.
Video by Simon.
Many thanks to WG for the beautiful footage.
---
NCRV Radio 2003 - 25 June 2020
In those times of introspection, diving into old tapes and live recordings can bring out long-forgotten tracks, buried in the lost days between 2 albums, or left too long off setlists along the years.
This is exactly what happened, digging out 2 old White Sands tracks recorded in duo format for Dutch national radio NCRV back in 2004 , prior to our stint in the Finals of the Dutch national singersongwriter contest De Grote Prijs van Nederland. Sure, our hair was darker then, our hearts lighter, our freedoms unimpeded and our hunger endless, but the songs were already trying to paint stories and reach the listener's soul. Sixteen years later, we're still here, crafts-men and -women, always trying our best at telling stories and still hungry.
Hope you like those tracks.
---
New video - 12 May 2020
Dear friends, we hope this finds you well. These are uncertain days filled with unclear sorrows and dumbed down joys, but we hope to have a treat for you that will carry you away and then back into the sunlight and on the road: our friends at film collective Stift have graced us with a truly magic short movie inspired by our track "Highway in your head" (from our latest album, Walking in the Wild) and we'd like to share it with you, and will do so tomorrow 13-5-2020, hoping this lifts you up. Keep safe.
---
Out of the Woods radio - 21 May 2019
Out of the Woods is a radio show dedicated to (mostly) acoustic roots music. It is broadcast internationally by a variety of radio stations and it's available online as a podcast. If you like our music, you might very well like this program. We do! Mainly because of the excellent music that Jon 'Chip' Colcord plays. But also because he played several songs from 'Walking in the Wild' in the past weeks. Grab it or stream it today. And tell your friends!
---
Press Quotes - 9 May 2019
'Walking in the Wild' got great reviews so far. Here are some quotes. Check our Press page for an overview of all the reviews.
Walking in the Wild kent geen zwak moment […] griezelig mooie songs Point Quiet laat andermaal horen Nederland's beste en consistentste leverancier van omvervalste Country Noir te zijn. - Heaven
Overheerlijk recept van Americana, folk, alt-country, singer-songwritermuziek en blues - De Subjectivisten
Op "Walking In The Wild" wordt door Point Quiet geëxcelleerd in soberheid, samenzang en schoonheid - Altcoutryforum
was die Eindringlichkeit, Geradlinigkeit und vor allen Dingen Transparenz betrifft […] dringen Point Quiet mittlerweile in Gefilde vor, die bislang eher Songwriter-Legenden wie Townes Van Zandt […] oder in diesem Falle Willie Nelson […] vorbehalten gewesen sein mögen. - Gaesteliste.de
De prachtige ingetogen zang van Pascal Hallibert kleurt deze songs tot mooie schilderijen op al even briljante, doch sober gespeelde muziek. - Rootstime
een van de smaakmakers in de Nederlandse (en internationale) rootsscene van het moment - De krenten uit de pop
---
Album release, Torpedo Theater - 16 March 2019
---
Album release - 2 March 2019
We would like to invite you to our album release concert.
Point Quiet
Walking in the Wild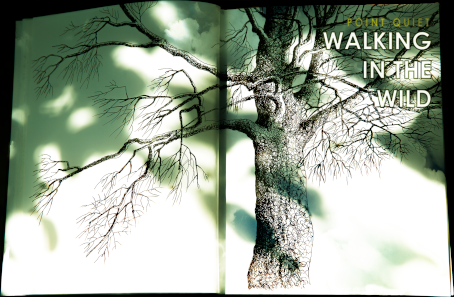 Album release
March 15th 2019
Torpedo Theater, Amsterdam
20:30
Venue opens at 20:00
Price for the concert is 17,50 euros for admission, our CD and an extra gift for you. Already have our album ? Admission is 10 euros. If you'd rather purchase our LP, the admission is 25 euros.
The venue is beautiful but small, so if you intend to come join us, please let us know as soon as possible by sending an email to reserve a spot.
Let us know what your option of choice is and we will prepare your ticket and have your CD and gift ready for you.
We hope to see you there!
---
Album presentation - 27 February 2019
We will present our new album 'Walking in the Wild' on 15 March in the intimate atmosphere of the Torpedo Theater in Amsterdam. More info coming soon!
---
New album, out this spring - 10 February 2019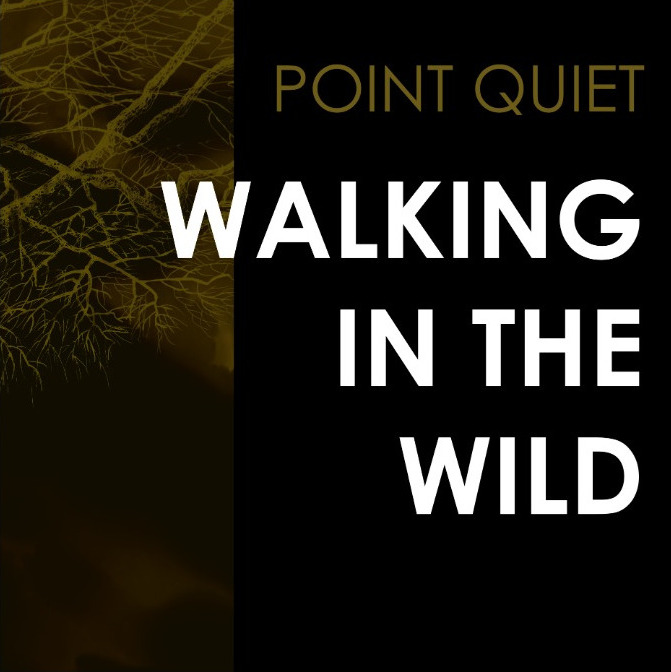 Walking in the Wild. That's the title of our new album. It will be released this spring, on cd and on beautiful vinyl. On Continental Records Europe, as always. Pre orders are available in our webstore.
---
Endless Road - 24 April 2018
Jan and Joost, aka Verbraak | Van Bijnen, bring us good news. Their new album will be out very soon. It will be released by the good people at CRS. Just listen to the title track Enless Road and you'll agree that it is good news!
More good news: Verbraak | Van Bijnen is planning a theatre tour later this year. Keep an eye on their Facebook page for the news!
---
More pics from Castenray - 20 February 2018
---
Concerto! - 12 October 2017
---
Verbraak | Van Bijnen - 19 October 2016

Feel like having a New orleans-vibe, enjoy a lonesome Mariachi-trumpeteer, an old-fashioned music machine's rhythm section, a creamy sousaphone plus some wild banjo- and dobrosounds…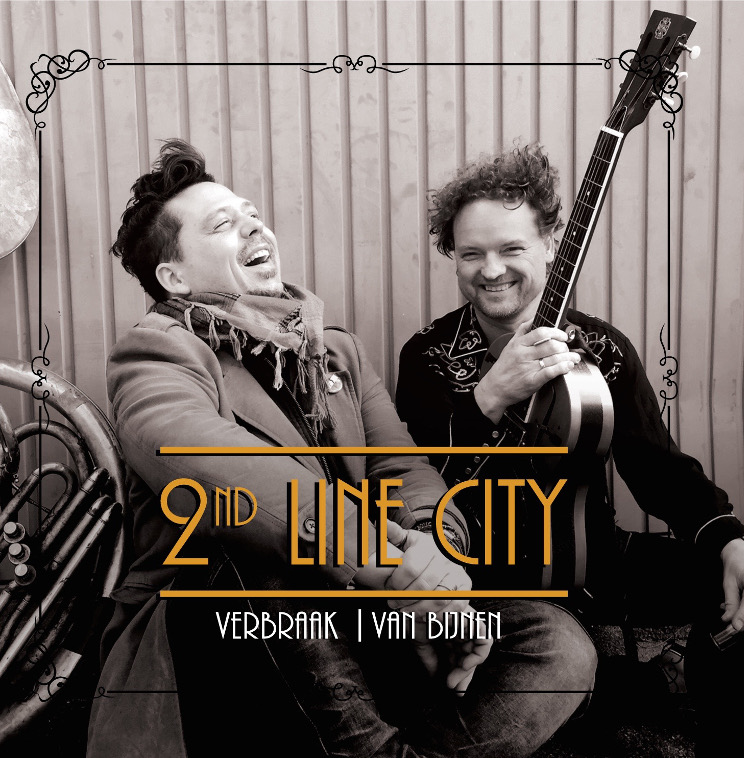 PQ's very own Joost (aka Verbraak) and Jan (aka Van Bijnen) burn down the house with their well-chosen mixture of blues, New Orleans and bluegrassy music.
Their first CD will be released by Continental Record Services (CRS): 2nd Line City.
Sounds like: Ry Cooder, Dr. John, Willie Nelson, Louis Armstrong...
The album is available in our webstore. Pre orders are only € 12,--!!!
---
Ctrl.Alt.Country's top 10 albums of the year - 14 December 2015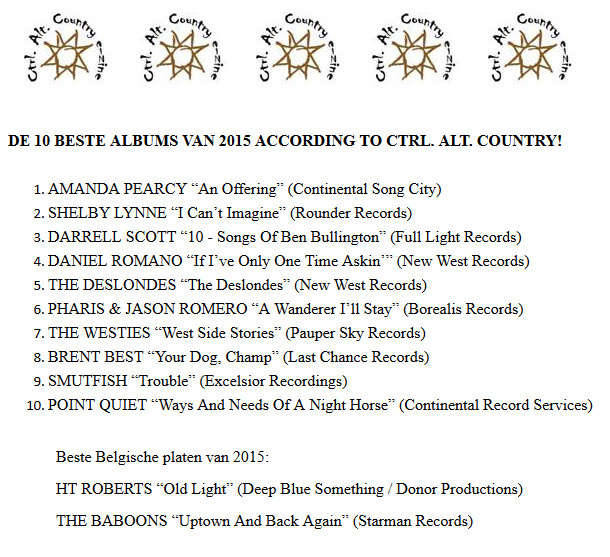 ---
Just confirmed: LantarenVenster, 3 September & Cambrinus, 10 April; date for Luxor Live changed: 12 November - 24 August 2015
Two new gigs in the gig list. On 3 September we'll be opening for Frazey Ford in LantarenVenster, Rotterdam. And on 10 April, that's next year, we'll go to Horst and play in Cambrinus.
There's a new date for our show in Luxor Live: Thursday 12 November.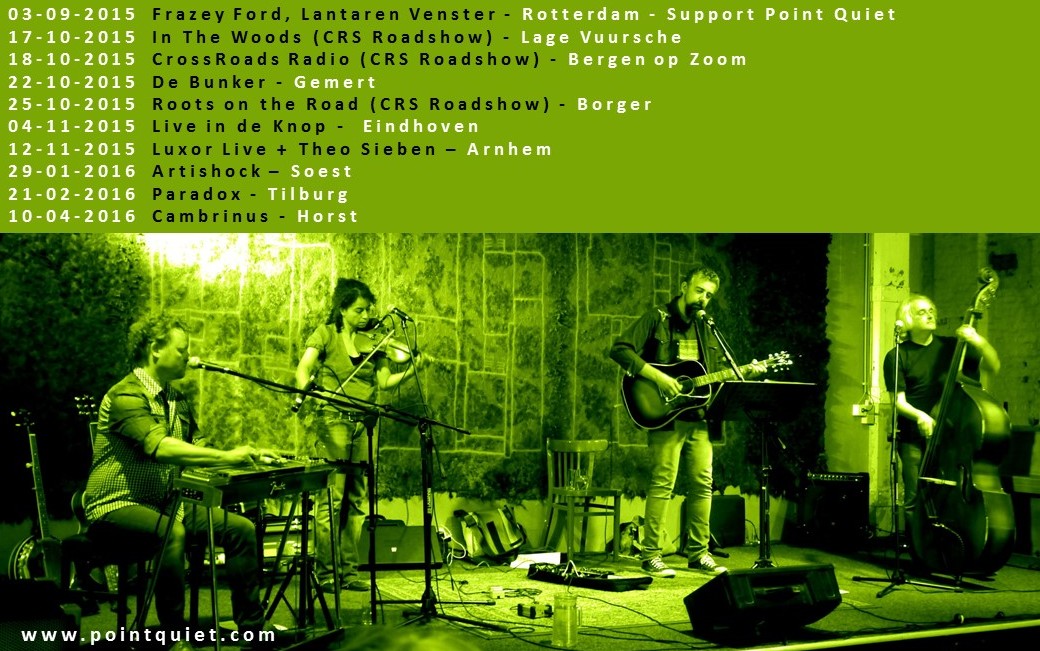 ---
Video impression & interview from De Zwarte Ruiter - 12 March 2015
Video by 3voor12 Den Haag
---
An interview with Jan - 8 March 2015
BN De Stem had a nice interview (our own copy here) with Jan, our hero on dobro and pedal steel and banjo and accordeon and trumpet and mandoline and much more. He talks about how he grew up in the small town of Ulvenhout, about his love for all stringed instruments and especially the dobro and about his shows with comedy legend Freek de Jonge. And we get to know if he and Sonja will ever get married.
The pictures were taken in Ulvenhout by Ron Magielse.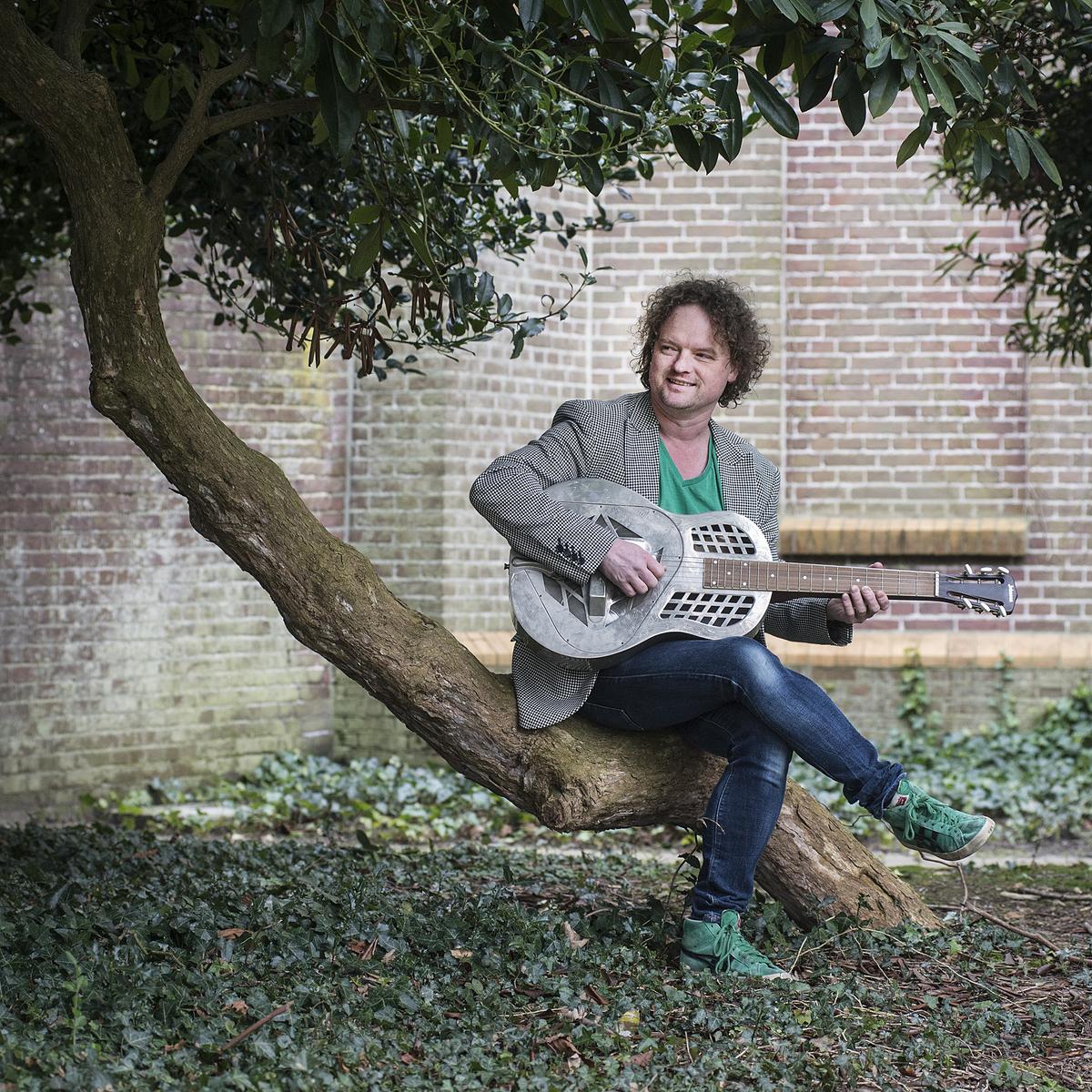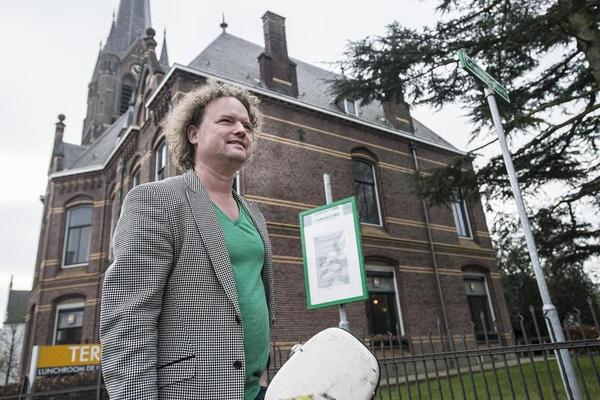 ---
Ways And Needs Of A Night Horse - the video - 18 February 2015
Video by Simone. Footage shot by Leonie Kuizenga at De Parel Van Zuilen, Utrecht.
---
Ways And Needs Of A Night Horse released today - 16 February 2015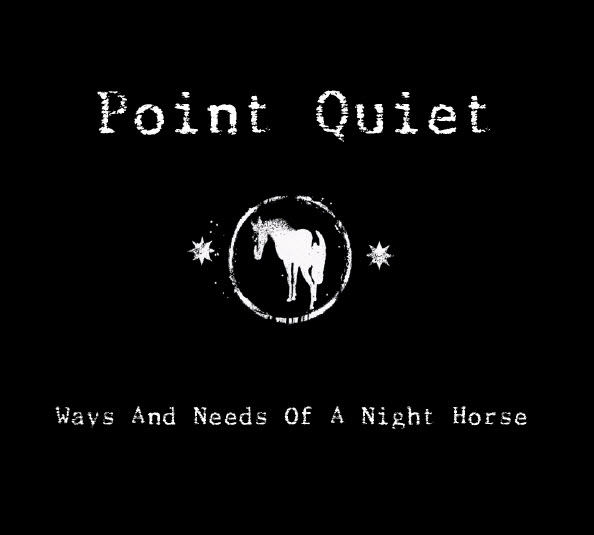 It's official, we have a new album. Release date: today! We're very happy with the response we got up to now. So, with pride, we present some press quotes below, in Dutch, English and German. Maybe, after reading them, you might consider to visit our store? Or read all the reviews on our Press page.
Ways And Needs Of A Night Horse press quotes
"We waren erop de redactie kapot van dit nummer, trouwens de hele plaat mag er wezen"
Jan Donkers on Gonzo's return, KX Radio
"een album van internationale allure dat ze overal op de wereld mogen horen."
Heaven (pdf)
"een slag in het gezicht met een fluwelen behandschoende vuist"
RifRaf (pdf)
"Point Quiet macht Musik, die traumhafte Schatten wirft und wo Schatten sind, ist auch Licht"
RockTimes
"We hopen dan ook van harte dat het album "Ways And Needs Of A Night Horse" van deze groep op de welverdiende erkenning van vele liefhebbers van uitstekende muziek zal mogen rekenen"
Rootstime.be
"A bit of Tex Mex by using trumpet, trombone and accordion, a nod to Ennio Morricone in the intro of Trembling Star, old school country slide guitar in The Man I Once Was, this is a band wearing their influences up front."
Here Comes The Flood
---
3voor12 Den Haag - 4 February 2015
3voor12 Den Haag selected us as their favourite band for this mont. This means you can see and hear us a lot in the Den Haag area, this February.
Monday next week, the 9th, we'll be playing and talking in Stork On Air on Den Haag FM
On Wednesday the 25th we'll play in De Zwarte Ruiter
And on Saturday the 28th there will be a video impression on Den Haag TV
And don't forget there's also our gig in De Regentenkamer on Sunday the 22nd, in the afternoon.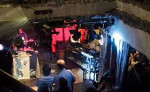 Before we start our Den Haag tour, we'll be playing in Amsterdam first. Tomorrow, in Dokhuis Galerie
---
Lyrics - 20 January 2015
We've updated our Lyrics page, with all the words from all the songs on our forthcoming album Ways And Needs Of A Night Horse. To give you an idea of what's going on in the mind of our lead poet and singer Pascal, here's one of them.
Told
I happen to find vanishing ghosts
In the waves licking the shores through eternity
I could never fight that most tender love
That keeps hiding inside tales rooted deep in honesty
The day seems to fade, and I feel a bit strange
Should I see your face again, I just wouldn't hide anymore
Later the Sun will rise, the break of dawn
Will cut the bones of stranger dreams floating on our songs
The streets were empty last night, only the shadows
Of long-gone lovers were seen dancing, or so I've been told
The day seems to fade, and I feel a bit strange
Should I see your face again, I just wouldn't hide anymore
---
The first review & a picture from Concerto - 3 January 2015
The first review of our new album has arrived. And it's a good one! Check it out on White Room Reviews. In the sidebar on the left of this news message you can find some songs and samples and a link to our store, in case you'd like to pre order the album.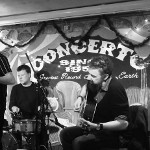 In December we did a pre release presentation of the new album in the Concerto record store in Amsterdam. Here's a great picture by Funs Kessen.
---
'Ways And Needs Of A Night Horse' coming soon - 18 December 2014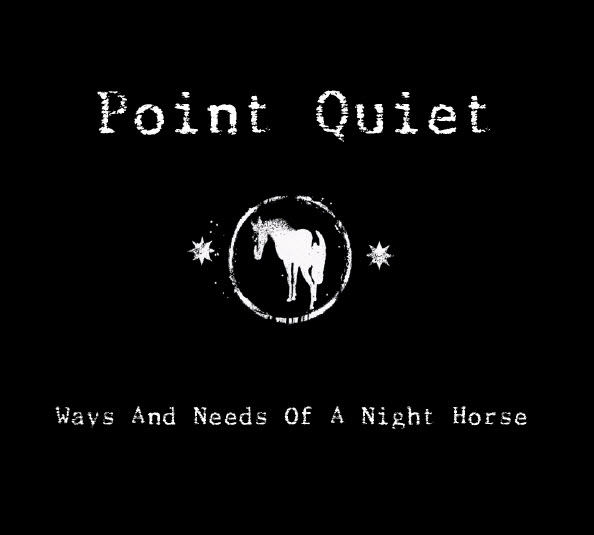 Our new album 'Ways And Needs Of A Night Horse' will be released on the 16th of February by Continental Records Europe.
We promise you eleven songs of loss, hope and trust, in our signature dark Americana sound.
You can pre order the album in our store now, for a reduced price of only € 12,--.
Or have a listen:
---
Live at Radio 1, 25 May - 26 May 2014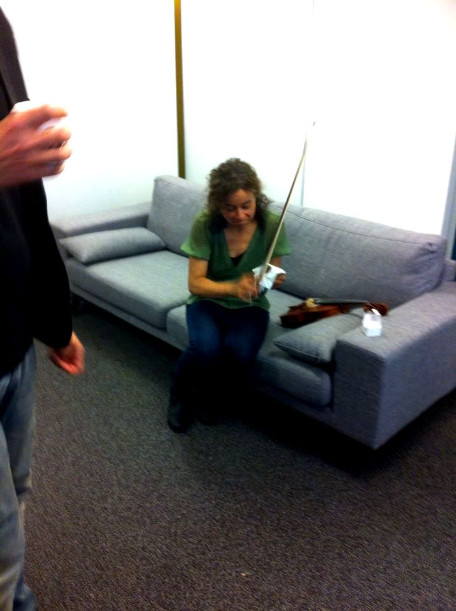 We had a great time yesterday, at the Radio 1 studio, playing The Man I Once Was on Dit Is De Dag. Thanks to everyone over there for being very hospitable en all round nice people!. Here's a recording from yesterday, including the teaser we played at the start of the show and presenter Margje Fikse interviewing Pascal: Point Quiet live on Dit Is de Dag, Radio 1.
And while we're at it, we found an old recording of Anchors And Birds from a Radio 1 show as well. Played in Villa VPRO, in October 2010. Ain't time going fast?
---
AltCountry.nl - 14 January 2014

Leo Kattestaart wrote a very nice blog post (in Dutch) on AltCountry.nl. We do appreciate it, Leo!
And, talking about Leo: if you happen to live in the Rotterdam or Den Haag area, you should keep an eye on The Lock Keepers. It's Leo & friends, organizing great live gigs in Grand café De Waker in Maassluis.
---
Club Calotte @ Melkweg, 28 October - 23 October 2013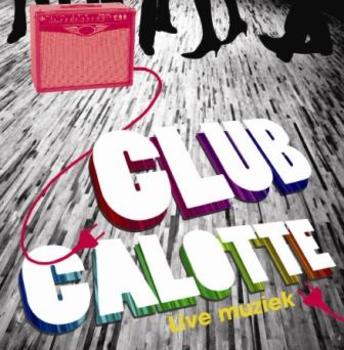 Arend Bouwmeester invited us to come and play in his oh so fabulous Club Calotte, this Monday. He didn't have to ask twice! Club Calotte moved from Bellevue to the Melkweg. Joining the party: the Will Sophie Band, Nanette Drazic, Theo Sieben and Laurens Joensen. And you?
---
Ontspoord by De Toneelmakerij - 23 September 2013
It's been pretty quiet here for some time. It's just that we were busy recording our new album and, let's be honest, dealing with everyday life. We hope we can give you some news on our new album pretty soon!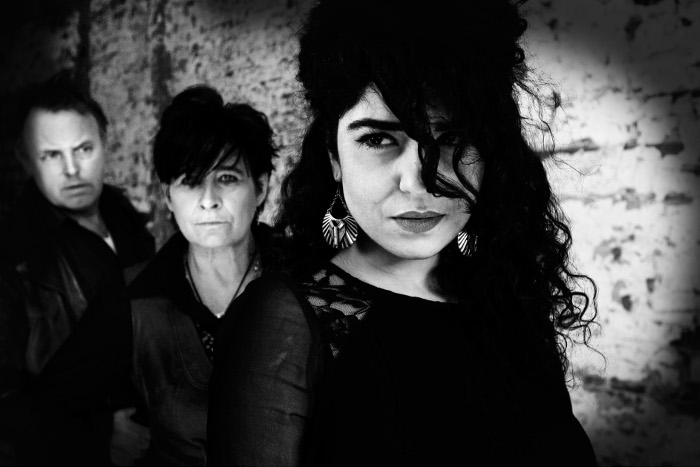 For now, we just want to tell you that you might like to visit Ontspoord by De Toneelmakerij, if you happen to be somewhere in The Netherlands this Autumn. It's the Dutch version of Naomi Wallace's "The Trestle at Pope Lick Creek", with music from Lucinda Williams, Mary Gauthier, Tom Petty, Steve Earl, Alison Krauss, to name a few. And from us! Frédérique Spigt and Bob Fosko sing Long May You Hide, and it opens with the untitled ghost track from our first album, played live by their excellent band! Our thanks go out to Frédérique Spigt and all at De Toneelmakerij!
---
Painting Canada - 30 June 2012
The Groninger Museum invited us to contribute a song to the audio tour for their Painting Canada exposition, which opens today. We're very proud to present our very own The West Wind.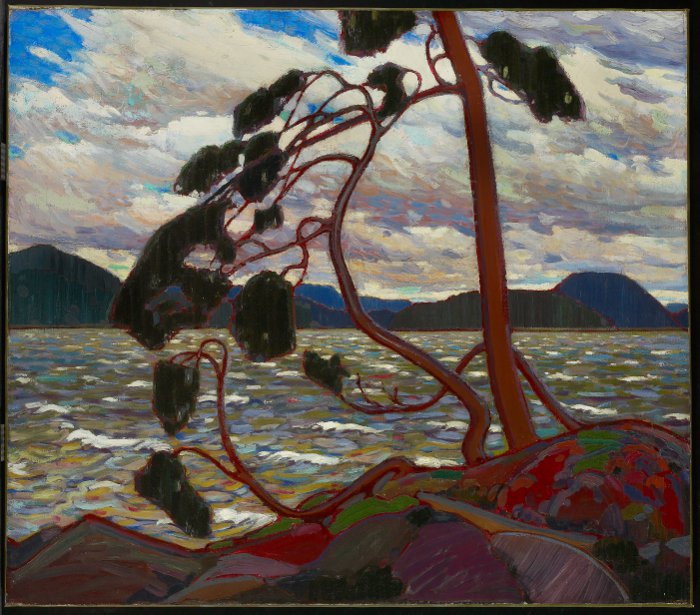 This song was actually born from the painting. Or more precisely, the painting triggered images and memories, merging and dancing with each other, until they spawned a short story, on which the song is based: a lost love and a lost past, kept alive by a man on the (somewhat figurative) shores of a lake, until lost is found again, but whether it is real or not is largely up to the listener. In real life, this painting reminded me of the lakes seen while being on tour in Canada, from the greater ones in Ontario to the smaller ones spread over northern Quebec, and the always nostalgic feeling they produced, maybe linked to memories of beaches of my home region (les Landes in France) at Fall. All great places for melancholia, which we now share with you.
Oh, and we'll play in the museum on September 22, with two other bands taking part in the audio tour: Kit Soden and House of Wolves. We think it's going to be a very, very special night.
---
The West Wind - 19 May 2012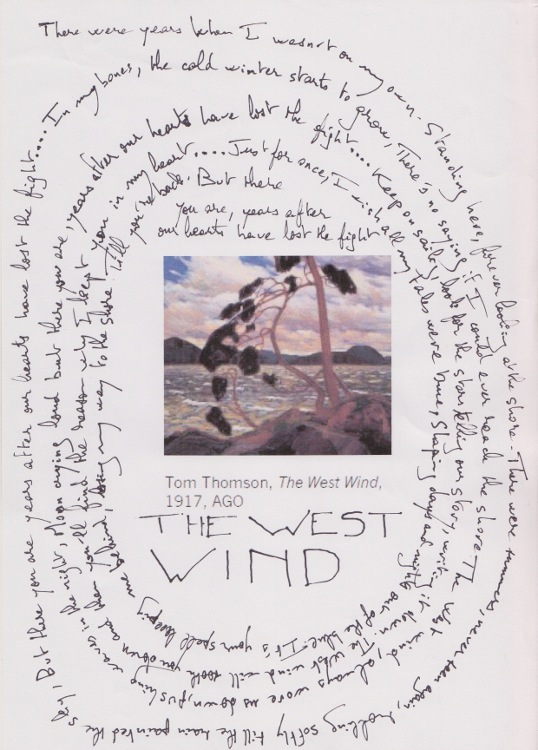 Painting Canada - Tom Thomson and the Group of Seven, June30 to September 30, Groninger Museum, Groningen.
More on The West Wind and the exposition: some day soon on this website...
---
The Long Goodbye - hand written - 16 April 2012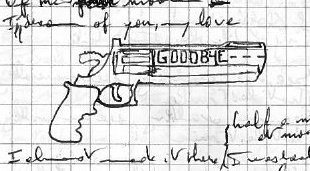 Just to show you what the original version looks like. On squared paper, in a small note book. Click on the image to see the full version.
---
Fort Worth Blues (2) - 19 March 2012
Video by Simone. Feel free to download the mp3
---
Bellevue backstage - 29 February 2012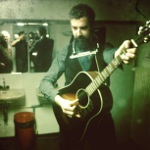 Braving the gods of adversity (by ways of public transports imperatives, variable-geometry schedule and other infrabass invasion from a nearby performance), we had fun (and a bad case of collective nerves) on Monday night in Amsterdam and we stayed the course on stage. How could it be otherwise, when the dressing-room atmosphere looked like this?
---
Fort Worth Blues - 24 February 2012
We're currently recording our new album, but we sure didn't want to leave you in a long, dark silence, especially in winter. Which is why, from now on, you'll find covers regularly posted on our site, recorded guerilla-style: fast, raw and heartfelt. Just like us (excepted for the " fast" part...). We start with our own humble rendition of Steve Earle's jewel: Fort Worth Blues. Written with Townes van Zandt in mind, but universal in its poignancy and humanity, this song tells you why Texas keeps calling those who ever set a foot there. Yours truly, included. And it speaks of friendship, love and wanderlust. We hope you'll enjoy it as much as we enjoyed covering it.
---
To wake up in Groningen - 15 February 2012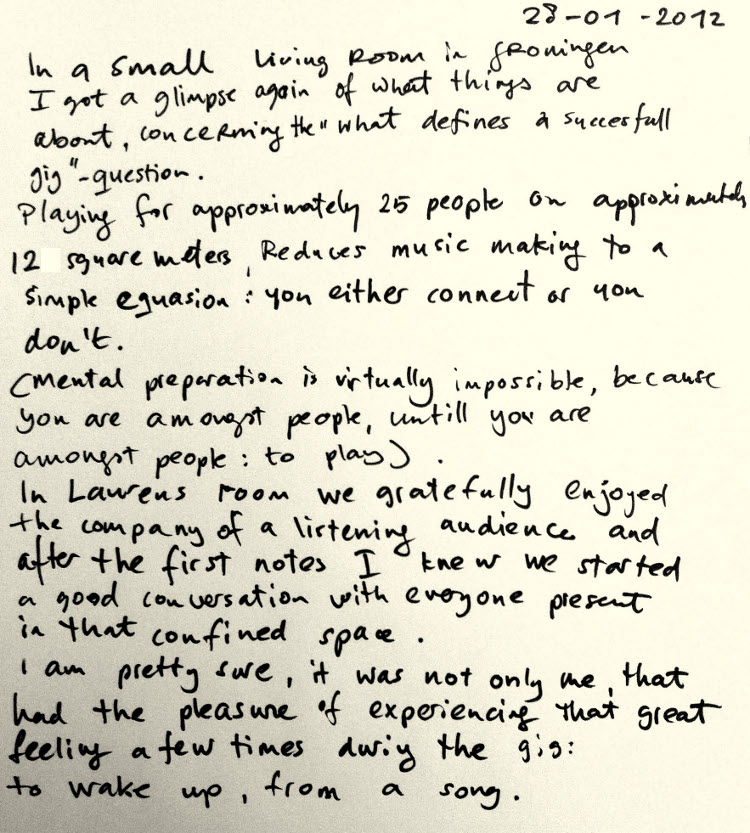 Some thoughts by Simone after about our very nice Wisful Music gig. Made you wonder what it was like? The Wishful people made some videos. And they are on Youtube.
And if you're in for some more music, check out Binoculers. She definitely was part of the magic, that very evening in that very living room.
---
Winter tour - 30 November 2011
We took some time off this autumn, but in the coming months we'll be back on the road! We had a great start of the series of gigs, playing the Club Canapé festival with the fabulous Dazzled Kid. The coming weeks we'll explore the north and the east of The Netherlands. Not too familiar territory for us, but we heard pretty good things about the place we'll play. We're looking forward to the experience and well, norhterners and easterners, it's up to you to prove those good stories are true.
More good news. The Bellevue Theater asked us to play on their Club Calotte evening on February 27th. We'll be there. It simply is one of the best places in Amsterdam for us.
---
Website makeover - 5 September 2011
If you've been here before you probably noticed. The PQ styling team has been working very hard on a new website layout. Our webmaster wants you to know that your more than welcome to mail him all your comments, complaints and compliments.
---
Summer note - 11 July 2011
Just a short summer-note... We are happy to announce that in august we'll start rehearsals and recordings for a new album. And...we published a new short video that you can watch here. Most of all we wish you an inspired summer!
---
20 June 2010
The good people at VPRO/3voor12 selected Anchors And Birds for their Hollandse Nieuwe compilation this month. We're proud of that!
---
April 2010
On April 16 we did a live radio session in Stork on Air on Radio West. Our multi instrument wizzard Jan couldn't make it that evening, but we think we managed to do pretty well anyway. So, we want to share the recordings with you. Hats off to Bas Martinius, who did a fabulous job on the live radio sound.
---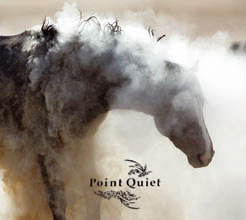 March 2010
Our new album will be released by Continental Records Europe and distributed by V2. We expect to announce a release date very, very soon.
---
February 2010
White Sands is now Point Quiet. Yes, we changed our band name. For reasons far too complicated to explain to you.
This is our new website, still very much under construction. For now, there's a biography, some pictures and, far more important, the news that's right ahead of you in the middle of this page! If you want to know more about our history, visit our old web site. We'll keep it online for a while.
Feel free to mail us with your questions or remarks. We're nice people. Or at least, we try. Most of the time...
---
7 April 2009
Culminating in a 5-part harmony vocal session, we completed the recordings for our new album. The mixing phase will now start and we'll keep you posted about it regularly (we might even put 1 or 2 takes online at some point, but we don't promise anything... keep watching this space though...).
Apart from that, Rotterdammers should write down april 14th in their agendas, since we'll be hitting the town on that day (see gigs section).
We thought you'd like to know that.
---
27 January 2009
Want to know a secret? Yes? OK, here it is: we're working on our second album. Even better: we're making good progress. Still better: we really like what's happening in the recording process. We're in the final stages of recording now, aiming for a release this summer.
We can hardly wait to play our new songs on stage. So we started working on that part as well. Keep an eye on our "gigs" page. A date in your local venue may be added shortly.
---
29 March 2008
We'll have the pleasure to play again the Binnenach festival in The Hague on april 29th. We got great reviews for our debut CD Deseronto (apart from a single one actually, so we won't complain...) which probably helped a lot...
This year, the Binnenach program is particularly attractive with (among others) performances by the Hans'own personal hero Johnny Dowd, The Hague's brilliant altcountry combo John Dear Mowing Club, and a guy who's probably the best upcoming singer-songwriter of his generation (I know, it sounds overcooked, but trust me, it's true!) Hayward Williams (I'd put him on a par with Great Lake Swimmers' Tony Dekker, to give you an idea). In other words, be there. If you please.
---
23 December 2007
Our debut album 'Deseronto' is out! 12 tracks of americana noir, we're very proud of the result. In this christmas period, do your CD collection a big peachy favor and order it from Plato (Benelux, Europe in general) or CD Baby (rest of the world!). Oh and more reviews to be read on the press page.
---